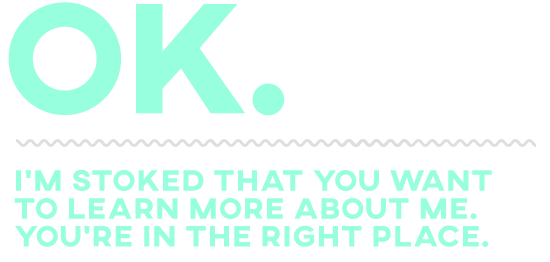 Hi. My name is Michael Janiak. I currently serve as VP of Creative at Fluid, where I get to make awesome digital experiences and products with my team.
I am a designer by trade. I am also a husband and father, surfer, snowboarder, skateboarder, musician, and generally OK human being.
Over the years I've had the privilege of working with some of the world's top creative talent and most-loved brands to fuse boundary-pushing concepts, unique strategies, groundbreaking design and technological innovation together into experiences that engage, inspire and delight consumers while enabling brands to build meaningful connections with their audiences.
In other words, I love thinking up and creating digital things that make people fall in love with brands. I've been doing it since 2003.
Relationships mean everything to me. I invest much of my time in developing, growing and maintaining both client and peer relationships. It's this investment in relationships that makes everything else I do possible.
As a creative leader, I believe my best and highest purpose comes down to doing two things really well. The first is to provide honest & clear creative vision, direction and ownership to designer and client alike. The second is to help designers find their own creative voice and push them past the obvious, taking their work further than they thought possible. It is my personal mission to foster a sense of collaboration, mutual respect and honest discourse on my team.
I strive to be a mentor, career-caretaker and advocate for my team and for anyone and everyone I collaborate with. I believe strongly that individual empowerment through service-oriented leadership is the best way to build a vibrant creative culture and that the power of small, focused teams and shared authorship is the best way to do great work.
A lot of my time is spent working on "what's next." I'm quite comfortable leading the development and execution of countless new business initiatives and pitches. I conceive, present and sell-in global concepts, innovative ideas and creative platforms to clients spanning nearly every industry, geography and size. Earning the trust of clients - and following through on my promises to them - is one of my favorite parts of the job.
I've won design awards and Recognition from Adobe, The FWA & FWA Mobile, The Webbys, Awwwards, The Andy's, The Addy's, The AME Awards and more.
Forrester, Behance, Adobe, The FWA, Tech Crunch, Hype Beast, VENTUREBEAT and many others have featured my work, my thinking and have interviewed me.
My specialties include creative direction, concepting, strategy, designing digital and tactile brand experiences, prototyping, ecommerce & mobile commerce, social media, mobile app design, RWD and mobile-first design, UI/UX design, motion design and animation - but I'm pretty much down for anything.
Drop me a line at michael@faction18.com if you'd like to talk.
Or, you can always find me in the digital ether:
Facebook
Instagram
Twitter
Behance
LinkedIn